Redbud Audubon Society is welcoming everyone to its first program of the season on Thursday, Sept. 19, when outstanding speaker, Dr. Norman Kikuchi returns. Everyone is invited to gather at 7 p.m. at the Presbyterian Church Social Hall, 5430 Third St. Kelseyville, to enjoy refreshments. Announcements and the program will start between 7:15 and 7:30.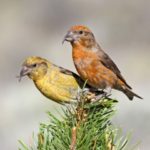 Last September Dr. Kikuchi spoke on Birds of Alaska. This new program features a glimpse into the lives of iconic birds of the Western United States. Dr. Kikuchi selected photographs he has taken at birding hotspots in New Mexico, Oregon and California.
Starting in world famous Bosque del Apache National Wildlife Refuge in New Mexico, the unforgettable spectacle of immense flocks of Snow Geese and Sandhill Cranes will be witnessed.
Northwards to lesser known Cabin Lake, Oregon, the Cascade boreal forest interfaces with the Great Basin sagebrush. The dearth of freestanding water for many surrounding miles makes this the premier place to see and photograph Red Crossbills.
Southwards to Lassen County, California, the Greater Sage Grouse perform their age-old ritual dances on a traditional lek.
We then it is on to the breeding birds of the High Sierras at Yuba Pass and adjacent Sierra Valley lowlands.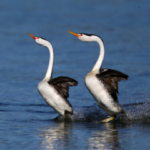 Next, on the largest freshwater lake in California at Clear Lake inLake County, both Western and Clark's grebes exhibit their unique breeding behaviors.
On the coast south of the Bay Area, view the amazing hummingbirds at the UC Santa Cruz arboretum.
The penultimate stop is the winter roost of Black Skimmers at East Beach Santa Barbara.
Finally on the cliffs of La Jolla the California race of Brown Pelicans will be seen.
Norman Kikuchi's childhood interest in birds began while stalking Ring-necked Pheasants in the foothills of Mt. Diablo, but his real bird epiphany occurred during his college days when he witnessed the impalement of a Western Fence Lizard by a Loggerhead Shrike on a Joshua tree spine. He was transfixed by the moment!