Cyanotoxins to be focus of February
Audubon Society Meeting
Although the blue green algae (cyanobacteria) problem has plagued Clear Lake for decades, a more recent concern is the presence of cyanotoxins, present in and beneath algae mats that can prove poisonous to both humans and animals.
Since the Fall of 2014 Big Valley Rancheria and Elem Indian Colony have been conducting regular testing for cyanotoxins produced by the "algae" blooms that have plagued the lake annually.
Environmental Directors Sarah Ryan, and Karola Kennedy will present the results of the Tribes' Cyanotoxin Monitoring Program and the ways it affects both recreational use of the lake and drinking water at the February Redbud Audubon Society program meeting.
Ryan and Kennedy will discuss the cyanotoxin "hot spots" as well as show examples of how toxin levels aren't necessarily linked to what the water quality looks like.  The presentation will provide a good background to an important issue that is being dealt with worldwide.
Sarah Ryan has worked for the Big Valley Band of Pomo Indians since 2001 and has headed their Environmental Protection Department since 2006.  Sarah works with environmental staff to respond to current environmental conditions and to protect natural resources which support the health and wellbeing of the Tribe.  Sarah has worked on and chaired pertinent committees, both local and statewide including the Clear Lake Advisory Committee, the CA Invasive Species Advisory Committee and the CalEPA Tribal Advisory Committee.  She attended the College of William and Mary in Virginia and obtained a Bachelor's in Government.
Karola Kennedy works for the Elem Indian Colony of Pomo Indians as the Environmental Director. She has been in the position and living in Lake County for two years. She is very passionate about the environmental issues in Lake County and Clear Lake. In her previous career she gained extensive experience in developing constructive and cooperative working relationships with others as well as maintaining them over time. She attended the University of Nevada, Reno and obtained a Bachelor of Science in Environmental Engineering and received designation as an Engineer in Training.
Please join us Thursday, February 18, for refreshments at 7:00 pm followed by our program.
We are now meeting at the Methodist Church Social Hall, 16255 Second St. in Lower Lake. The hall is across the parking lot from the Methodist Church. If you are coming through Lower Lake, turn left on Lake Street and then right on Second St. The church is on the right. We feel that moving our meetings to the south end of the county for the second-half of our year is a way to accommodate all of our Redbud Audubon members county-wide.
February Field Trip to Clear Lake State Park
The Saturday bird walk will be held on Saturday, February 20, 2016. Our field trip will be at the Clear Lake State Park on Soda Bay Road. This is always a great walk with the likelihood of seeing numerous songbirds and wildfowl as well as raptors, Great Blue Herons, and egrets.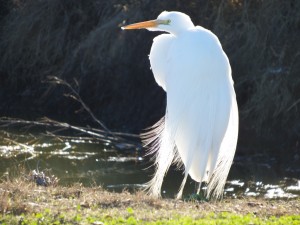 Please check in at the gate and pay the entry fee. We will meet in the parking lot area near the visitor's center and begin the walk at 9 a.m.
If by any chance you can't make this walk, you may want to join Clear Lake State Park docent, Brad Barnwell, on February 27. He will be leading a walk preceded by a presentation on one of our favorite birds here in Lake County, the Osprey. Or, better yet, come on both of these field trips!
As with all Audubon events, the public is cordially invited to join us.