Heron Days
By Vivian McFarling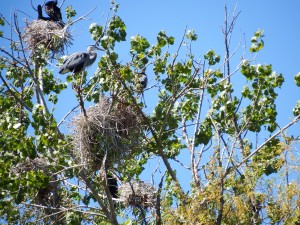 The Heron Days boat tours on April 30 at Lakeside County Park was a mixture of delight and disappointment. Forecasts of high winds threatened to cancel the whole day, but we decided to go ahead with the tours and take our chances.
We succeeded in accommodating the morning tours. The winds were relatively calm, the sun was shining, and the temperature was perfect. People had a great time. Among the sightings were a Bald Eagle, Yellow-headed Blackbirds, Great Blue Herons feeding their young, and wonderful displays of Grebes doing their courtship dance across the waters. People on Bonny and Clyde's boat saw a Marsh Wren's nest attached to a reed just a few inches above the water. In the park itself you could see an Osprey nest with little Osprey heads poking over the top.
From 11 to 12 noon the wind direction changed and increased by at least 15 mph from a mild concern to a howling wind. The 12:15 and 1:15 tours were cancelled. Ed Legan and Eyes of the Wild loaded their boats on trailers. Jim Scholz returned the Prather boat the short distance to Shirley Slough. Bob Rumfelt in a Disney boat and Bonny and Clyde in their boat battled the winds on their return to Lakeport. And the onsite staff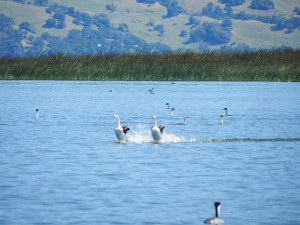 hastily packed up their tables, canopies, etc. and skedaddled out of there.
This newsletter goes to press before the May 7 tours at Redbud Park in Clearlake. As of this writing there is a chance of rain and hopes on our part that the forecast will change between now and then. It's been quite an adventure for us this year but we can't complain. Mother Nature has also provided us with abundant rain, wonderful wildflowers and a lake full of fish and birdlife.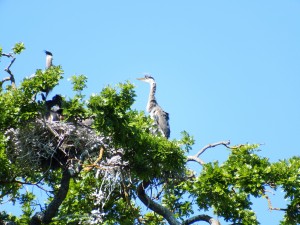 It goes without question that Heron Days could not happen without the volunteer boat owners and drivers. The bird guides are an equally important part of the enjoyment of the tours as well as all of the onsite workers at the sign-in tables and docks. Our sincere thanks go out to them. I also want to thank the behind-the-scenes supporters: Tina Wasson – permits; Nicola Selph – insurance and check writing; Tom McFarling – boater license renewals and general overall support; Robert Lyons – publicity; Bonnie Thompson – publicity and website updates; Bill and Carol Lincoln – hauling of equipment from storage to the site. And a special thanks to Evelyn Wachtel who fielded all the registration issues, acted as onsite leader at Lakeside and much more.
Update!  May 7 Boat Tours: It was cloudy with a few rain sprinkles.  There were quite a few no shows, but those who came had a good time. Participants were able to see a juvenile bald eagle, who accommodated the crowds by sitting in the same place all morning!