April 30 and May 7
Heron Days has SOLD OUT! *


Saturday, April 30                                 Lakeside County Park, Lakeport
Saturday, May 7                                      Redbud Park, City of Clearlake
*On occasion, we do have a few people who do not show up throughout the day and might have room for one or two people.  You can come on May 7 and see if there is space available, but we can make no promises.
If you have attended this event in past years, you know what a wonderful celebration of nature this event offers. The boat tours are a rare opportunity to see nature up close on beautiful Clear Lake. Each day consists of six 90-minute tours leaving hourly between 8:00 am and 1:15 pm.  The 2-hour tours down Cache Creek which were provided last year are not available this year.
From Lakeside County Park you will be taken into Shirley Slough and west along the Clear Lake shoreline. From Redbud Park you will explore Anderson Marsh and the upper end of Cache Creek.  Some visitors opt to take a tour on both days, and enjoy seeing different habitats and different birds.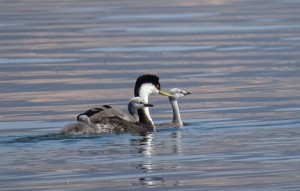 Each boat will have an experienced Audubon guide to point out the birds being seen on the tours and explain their behaviors. Besides several species of nesting herons and egrets, tour guests are likely to see nesting osprey and cormorants, yellow-headed blackbirds, and Western and Clark's grebes in courtship displays where they "dance" in pairs across the lake surface.
Audubon leaders believe that, through first-hand experience with nature, people will come to understand the need to conserve and protect Lake County's natural resources and habitats.
We will have a limited number of boat tours. We encourage you to make your boat reservations as soon as possible as the available tickets for some of the most popular tour times may sell out quickly.  Children eight years of age and older are invited to attend.
For any questions regarding registration, call Evelyn Wachtel at (707) 987-3742.
We have provided a link for driving directions as well as Lake County tourist attractions and accommodations.
To register for a boat tour, select the PAY NOW button below.