ZOOM Programs 2021-2022
To register, click here: Zoom Registration
Thursday, October 21, 2021 at 7 p.m.
"Cultural attitudes toward owls around the world through history"
is October topic for Redbud Audubon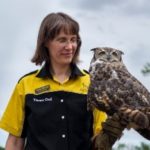 The Oct.  21 program for the Redbud Audubon Society will once again feature Karla Bloem,  Executive Director of the International Owl Center in Houston, Minnesota. Bloem's presentation to Redbud last February was met with such enthusiasm that it was decided to ask her to return. The program starts at 7 p.m. and will be a Zoom presentation. Register by clicking on the link either in your emailed newsletter or on the home page of Audubon's website: www.redbudaudubon.org.
The title of Bloem's presentation is: "Cultural attitudes towards owls around the world through history," and she will talk about how attitudes about owls in different cultures around the world affect efforts to conserve this species. As before, Alice the Great Horned Owl will make a live appearance in this one-of-a-kind entertaining and educational program.
Owls are found all around the world and cultures throughout time have had very strong opinions about them. In this program, learn how owls were and are viewed, travel back in time to the very first owl cave carving, and find out how people are changing negative stereotypes about owls around the world today.
Owls are omens of death. Owls are creator beings. Owl eggs can cure serious diseases. These are all views that are currently held in different cultures on different continents.
Why is it important to understand these different cultural beliefs? Because conservation efforts depend heavily on cultural attitudes. Where people have positive attitudes towards owls it is much easier to promote actions that are beneficial to owls. If people fear them, they will be more likely to want to kill owls than conserve them.
Education and personal gain have both been successfully used by several innovative individuals to make the world a better place for owls. This presentation will take you on a tour around the world throughout history to see how owls have been viewed, and hear inspiring stories of people who are creatively changing negative views.
Karla Bloem is the Founder and Executive Director of the International Owl Center. She acquired Alice the Great Horned Owl to use in educational programs in 1998 and began studying Great Horned Owl vocalizations in 2004. Karla is now the world authority on their vocalizations and has given presentations in The Netherlands, Germany, Argentina, Italy, Portugal, and South Africa.
Alice's popularity led Karla to create the International Festival of Owls, the first full-weekend, all-owl event in North America that has served as the inspiration for similar festivals in Italy, Nepal, and India.
Karla and Alice testified before the Minnesota House and Senate environment committees to successfully gain protection for Great Horned Owls in 2005. She has assisted several authors and filmmakers and has appeared on Animal Planet and the CBC Network's "The Secret Life of Owls."
~~~~~~~~~~
Thursday, September 16, 2021 at 7 p.m.
The Geological Tourist in Lake County with
Dr. Harry Lyons
The Redbud Audubon Society is pleased to host Dr. Harry Lyons at the first program meeting of the season on Thursday, Sept. 16, starting at 7 p.m. on Zoom.

Although Dr. Lyons is best known for his talks on Clear Lake, his interests extend to other topics, including the fascinating geology of the Clear Lake basin, which will be his topic for the September meeting.
"A few folks travel to Lake County to take in the Geology, to marvel at the variety of young igneous rocks, to crumble soil derived from Jurassic muddy sandstones, and to scramble up slopes of serpentine. What's the big draw for this small group?" Lyons asks. His answer is that the terrain around Clear Lake reflects the history of California and the world. Lyons condenses lessons from local experts and informed visitors in tying the region's geological history to actions that occurred below the Pacific Ocean, the area of his study as an oceanographer.
Dr. Lyons has lived in Lake County for over 40 years, for much of that time conveying scientific information on Clear Lake to two generations of college students. The Emeritus Professor of Biology/Ecology from Yuba College grew up in Brooklyn, attended Rutgers College and Stanford University, and was awarded his PhD in Oceanography as a National Science Fellow from the Scripps Institution of the University of California.
He currently is serving as the president of the Lake County Resource Conservation District and as a founding member of the Middle Creek Restoration Coalition. He has been appointed by the County Board of Supervisors to the Blue-Ribbon Committee for the Restoration of Clear Lake. He often speaks, and sings, about the natural history of Clear Lake and efforts to restore and preserve its watershed.