ZOOM Programs 2021-2022
Why Parrots are Worth Saving
Thursday, May 19, 7:00 pm 
To register, click here: Zoom Registration
The Redbud Audubon Society is pleased to host Lauren Schmaltz, the USA Administrator for the World Parrot Trust, for its Thursday, May 19 final program of the season. The program starts at 7 p.m. To register, click on the registration link or click on the link emailed copy of the newsletter.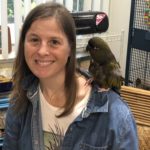 Parrots are the most endangered family of birds in the world. The World Parrot Trust (WPT) has worked to help conserve more than 80 species of parrot in 43 countries. Since 1989, the trust has brought together global experts on wildlife conservation and parrot welfare to implement effective programs to protect both wild and companion parrots.
The activities of the WPT include conducting field research on little known species; supporting the rehabilitation, release, and reintroduction of threatened and endangered species; working to end the trade in wild caught parrots; encouraging the protection and restoration of critical habitat areas; promoting community education and engagement through sustainable livelihoods; and advocating for better welfare and care of captive parrots.
The trust has staff in Africa, Brazil, New Zealand/Australia, Indonesia, Canada, Italy, and the United States.
To achieve optimal results in these areas, the WPT offers funding, technical support, and advice from afar, while recruiting in-country residents and local area partners to lead efforts on-the-ground. This approach overcomes cultural and language barriers that are often impediments to success.
This approach also empowers local communities to take ownership of the solutions, so that the progress achieves on behalf of parrots is lasting. The collaboration between WPT staff, local NGOs, and communities is a hallmark of their success.
The trust seeks a future where the world's wild parrots have the ongoing protection from human and environmental threats necessary to persist and thrive in the wild, and captive parrots receive the care they deserve from compassionate caregivers in order to flourish.
Lauren Schmaltz administrates the WPT's programs in the United States. She first became involved with the World Parrot Trust while serving as the Director of Echo, a small non-profit organization dedicated to protecting the Yellow-shouldered Amazon parrot and its fragile dry forest habitat on the Dutch Caribbean island of Bonaire. She returned to the US from Bonaire in 2017, having stepped down from that role to dedicate herself to working full-time with the World Parrot Trust.
Lauren Schmaltz completed a dual Bachelor degree in Biology and Spanish and a Master of Environmental Studies. In the midst of her studies, Lauren also spent several years living overseas in the Galapagos Islands (Ecuador), Costa Rica, and Bonaire. Her keen interest in environmental management, community outreach and education, and sustainable development harmonizes well with WPT's growing initiatives in parrot conservation, habitat restoration, and community engagement.
~~~~~~~~~~~~~~~~~~~~~~~~~~~
A World on the Wing: The Global Odyssey of Migratory Birds
NOTE:  Tuesday, April 19 at 6:00 pm
Important Change to Registration
To register for this program ONLY, go to www.peregrineaudubon.org home page, scroll down to Subscribe to our Mailing List, enter your email address and follow the prompts. Everyone registered on the Peregrine mailing list will receive the Zoom link for the meeting.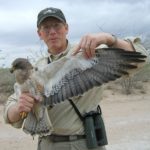 Redbud's program speaker for April had to cancel unexpectedly.
Fortunately, Peregrine Audubon in Ukiah has invited Redbud chapter and Mendocino Coast chapter to join their April meeting on Zoom, featuring a leading world expert on bird migration.
The Zoom meeting is TUESDAY, April 19, two days before Redbud's regular meeting day.
This special meeting will begin at 6:00pm, an hour earlier than usual because the speaker lives on the East Coast, with a three-hour time difference.
Our neighboring chapter in Ukiah, Peregrine Audubon, is excited to present a unique opportunity to hear  Scott Weidensaul, one of the world's leading experts on bird migration. Scott is a celebrated writer and ornithologist.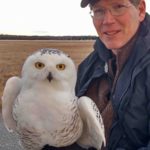 Weidensaul spearheads a number of major research projects focusing on bird migration and has written more than 30 books on natural history, including Living on the Wind: Across the Hemisphere with Migratory Birds and, most recently, A World on The Wing: The Global Odyssey of Migratory Birds. He was recently interviewed about this latest book on Terry Gross' Fresh Airprogram on National Public Radio.
In addition to writing about wildlife, Weidensaul is an active field researcher whose work focuses on bird migration. He is a co-director of Project Owlnet, a collaborative effort among nearly 125 banding and research stations across North America studying owl migration, and for more than 25 years he has directed a major effort to study the movements of northern saw-whet owls, one of the smallest and least-understood raptors in North America.
Weidensaul co-founded Project SNOWstorm, which uses cutting-edge tracking technology to study snowy owls, and is a founder of the Critical Connections project, which is tracking the migration of birds that breed on National Park lands in Alaska.
He is also part of a continental effort to understand the rapid evolution by several species of western hummingbirds of a new migratory route and wintering range in the East. He co-founded the Northeast Motus Collaboration, which is creating a network of nearly 150 automated telemetry receivers across the mid-Atlantic region and New England to track the movements of bat, insects and small birds.
Scott Weidensaul is a Fellow of the American Ornithological Society. He and his wife Amy live in the northern Appalachians of New Hampshire.
~~~~~~~~~~~~~~~~~~~~~~~~~~~~~~~
Thursday, February 17, 7:00 p.m.
Yurok Tribe Works to Return Condors to Northern California
To register, click here: Zoom Registration
Special guest Tiana Williams-Claussen will talk about reintroducing California condors to their historical Northern California and Pacific Northwest range at Redbud Audubon's Zoom meeting on Thursday, February 17, at 7 p.m.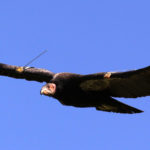 The Yurok Tribe in Northern California has been preparing over 14 years to bring condors, this nation's largest bird, home to a historic part of its range after a century-long absence. Not only will this restore an apex species into the region's ecological systems, but it will promote the Yurok Tribe's reconnection to this amazing creature that is sacred to the tribe and has great cultural importance.
Tiana Williams-Claussen, Director of the Yurok Tribe Wildlife Department, will briefly introduce the incredible Prey-go-neesh — the California Condor — and describe the traditions guiding the Yurok Tribe's efforts to bring condors back to the Tribal Ancestral Territory. She will explain the tribe's step-by-step progress over 14 years to develop collaborative partnerships with the National Park Service, the U.S. Fish and Wildlife Service, the Ventana Wildlife Society, multiple zoos, and local hunters. With the necessary facilities construction nearing completion, the tribe hopes to release the first four condors this spring. In closing her talk, she will describe the Yurok Tribe's approach for reintegrating condors once they are released.
Tiana Williams-Claussen is a Yurok Tribal member from the village of Wehl-kwew and was raised in Yurok Ancestral Territory. She received her Bachelor of Arts degree in Biochemical Sciences from Harvard University, after which she returned to serve her tribe. She was instrumental in the formation of the Yurok Tribe Wildlife Department in 2008 and currently serves as Department Director.
Her native upbringing and formal education combine to allow her to bridge the gap between Yurok traditional understandings of the world and those rooted in Western science. She is working toward a cohesive, well-informed approach to holistic ecosystem management.
To register for this fascinating presentation, click on the link above.
~~~~~~~~~~~~~~~~
Thursday, January 20, 7:00 pm
Cooperation and Conflict in the Communal World
of the Acorn Woodpecker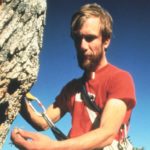 The Thursday Jan. 20 program meeting for the Redbud Audubon Society will feature Dr. Walt Koenig, an expert on Acorn Woodpeckers and a scientist who has been studying these fascinating birds for years. The program will be on Zoom and starts at 7 p.m. To register, go to www.redbudaudubon.org and click on the Registration Link on the home page of the website or click on the link in this newsletter if you are receiving it by email. The link to join will be sent to you the day of the program.
Acorn Woodpeckers, best known for their unique habit of storing acorns by the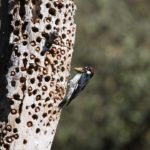 thousands in special structures known as "granaries," exhibit one of the most complex social systems of any bird. Family groups of this species, sometimes numbering a dozen or more birds, contain multiple breeders of both sexes, a rare phenomenon called "polygynandry," along with young from prior years that serve as "helpers-at-the-nest." Based on a study of this species at Hastings Reservation in Monterey County, Dr. Koenig will explain some of the strikingly cooperative and surprisingly competitive behaviors of this species that he and his colleagues have discovered during their 50+ year field study.
After studying Acorn Woodpeckers for his Ph.D., Walt Koenig was a Research
Zoologist at Hastings Reservation, a field station located in the upper Carmel Valley run by the Museum of Vertebrate Zoologist at UC Berkeley, from 1982 to 2008. He subsequently was a Senior Scientist at the Cornell Lab of Ornithology in Ithaca, New York, from 2008 to 2016. He retired in 2016 and returned to upper Carmel Valley, where he currently studies acorn production by California oaks and continues to contribute to the Acorn Woodpecker study.
Please join us for this fascinating program.
~~~~~~~~~~~~~~~~~
Thursday, December 16, 7:00
Bird Identification
with Doug  Prather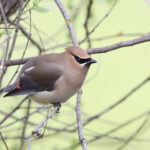 The Redbud Audubon Society will present a comprehensive Bird Identification program on Thursday Dec. 16, starting at 7 p.m. The program will be presented on Zoom by Doug Prather, who is a well-known Lake County naturalists and birding expert.
The program will consist of extensive images with discussion centering on distinguishing features of birds that are often seen in Lake County and expect to be seen during Redbud's annual Christmas Bird Count that is scheduled for Saturday, Dec. 18.
To register for the program, click on the registration link on the homepage at www.redbudaudubon.org. and a link will be sent on the day of the presentation.
~~~~~~~~~~~
Thursday November 18, 7:00 pm
Hiking to the Rim of an Erupting Volcano
with Lisa Prather
Redbud Audubon Society will be hosting Redbud board member Lisa Prather on Nov. 18 starting at 7 p.m. Lisa will be talking about her adventure of traveling 4,000 miles from her home to see a volcano in Iceland. The program is a Zoom presentation and requires pre-registration.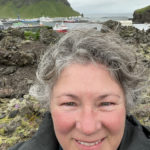 Why would someone travel 4,000 miles from home to see a volcano? Well, for several reasons. This volcano erupted for the first time in 800 years. And it continued erupting, from March 19 to September 18 of this year, with occasional breaks. It is in a country that has both 150 volcanos and the second largest glacier in Europe.
We are talking about Iceland. The volcano is Fagradalsfjall.
The "someone" who traveled to see the volcano first-hand, Lisa Prather, is a science and math teacher in the Lakeport School District, now a teaching coach for new Lakeport teachers.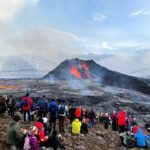 "Fagradalsfjall captured my interest in early March," Lisa explained, "when news reports announced that an impending volcano was going to emerge in the small island nation of Iceland. My husband and I watched the live feed of the volcano from day one until July 9th when I got to see it in person, sort of."
"I was hoping to see lava erupting in great mountains of molten orange, but when my sister and I arrived, it was 'taking a break.'  Fortunately, this provided me with the time to explore this island and all it has to offer," Lisa notes.
 "Iceland is a land of contrasts. Among the reasons why I went to Iceland were the awe-inspiring waterfalls, geothermal pools, and amazing 'wildlife.'  I got to walk across the continental divide, relax in hot pools, get to know the people and their history, and see a live volcano erupt."
Iceland is the second largest island in Europe, after Great Britain. It spans two tectonic plates: The North American and Eurasian; and its volcanos draw from deep in the molten mantle of the Earth. It has a mild summer climate for such a northern latitude. Despite its name, Iceland is a green nation in both its renewable energy and vegetation, making summer visitors speculate why it was dubbed 'the land of ice.'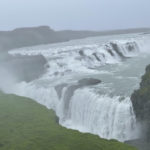 It is one of the least populated nations in the world but has the highest per capita electricity usage in the world. Although 28 times larger than San Francisco, Iceland holds 60% fewer people. Icelanders are among the most literate people in the world with a 99% literacy rate. They also speak several languages fluently, including English. While claiming a tough Viking heritage, Iceland is also fiercely dedicated to human rights.
"All these contrasts drew me to Iceland as a place to regenerate after several years of hard work, and it provided me with a temporary escape from Covid. So when my friends ask me, "Why Iceland?"  I answer, "Why not?"
To register for this Zoom presentation click on the Zoom Registration link.
~~~~~~~~~
Thursday, October 21, 2021 at 7 p.m.
"Cultural attitudes toward owls around the world through history"
is October topic for Redbud Audubon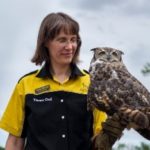 The Oct.  21 program for the Redbud Audubon Society will once again feature Karla Bloem,  Executive Director of the International Owl Center in Houston, Minnesota. Bloem's presentation to Redbud last February was met with such enthusiasm that it was decided to ask her to return. The program starts at 7 p.m. and will be a Zoom presentation. Register by clicking on the link either in your emailed newsletter or on the home page of Audubon's website: www.redbudaudubon.org.
The title of Bloem's presentation is: "Cultural attitudes towards owls around the world through history," and she will talk about how attitudes about owls in different cultures around the world affect efforts to conserve this species. As before, Alice the Great Horned Owl will make a live appearance in this one-of-a-kind entertaining and educational program.
Owls are found all around the world and cultures throughout time have had very strong opinions about them. In this program, learn how owls were and are viewed, travel back in time to the very first owl cave carving, and find out how people are changing negative stereotypes about owls around the world today.
Owls are omens of death. Owls are creator beings. Owl eggs can cure serious diseases. These are all views that are currently held in different cultures on different continents.
Why is it important to understand these different cultural beliefs? Because conservation efforts depend heavily on cultural attitudes. Where people have positive attitudes towards owls it is much easier to promote actions that are beneficial to owls. If people fear them, they will be more likely to want to kill owls than conserve them.
Education and personal gain have both been successfully used by several innovative individuals to make the world a better place for owls. This presentation will take you on a tour around the world throughout history to see how owls have been viewed, and hear inspiring stories of people who are creatively changing negative views.
Karla Bloem is the Founder and Executive Director of the International Owl Center. She acquired Alice the Great Horned Owl to use in educational programs in 1998 and began studying Great Horned Owl vocalizations in 2004. Karla is now the world authority on their vocalizations and has given presentations in The Netherlands, Germany, Argentina, Italy, Portugal, and South Africa.
Alice's popularity led Karla to create the International Festival of Owls, the first full-weekend, all-owl event in North America that has served as the inspiration for similar festivals in Italy, Nepal, and India.
Karla and Alice testified before the Minnesota House and Senate environment committees to successfully gain protection for Great Horned Owls in 2005. She has assisted several authors and filmmakers and has appeared on Animal Planet and the CBC Network's "The Secret Life of Owls."
~~~~~~~~~~
Thursday, September 16, 2021 at 7 p.m.
The Geological Tourist in Lake County with
Dr. Harry Lyons
The Redbud Audubon Society is pleased to host Dr. Harry Lyons at the first program meeting of the season on Thursday, Sept. 16, starting at 7 p.m. on Zoom.

Although Dr. Lyons is best known for his talks on Clear Lake, his interests extend to other topics, including the fascinating geology of the Clear Lake basin, which will be his topic for the September meeting.
"A few folks travel to Lake County to take in the Geology, to marvel at the variety of young igneous rocks, to crumble soil derived from Jurassic muddy sandstones, and to scramble up slopes of serpentine. What's the big draw for this small group?" Lyons asks. His answer is that the terrain around Clear Lake reflects the history of California and the world. Lyons condenses lessons from local experts and informed visitors in tying the region's geological history to actions that occurred below the Pacific Ocean, the area of his study as an oceanographer.
Dr. Lyons has lived in Lake County for over 40 years, for much of that time conveying scientific information on Clear Lake to two generations of college students. The Emeritus Professor of Biology/Ecology from Yuba College grew up in Brooklyn, attended Rutgers College and Stanford University, and was awarded his PhD in Oceanography as a National Science Fellow from the Scripps Institution of the University of California.
He currently is serving as the president of the Lake County Resource Conservation District and as a founding member of the Middle Creek Restoration Coalition. He has been appointed by the County Board of Supervisors to the Blue-Ribbon Committee for the Restoration of Clear Lake. He often speaks, and sings, about the natural history of Clear Lake and efforts to restore and preserve its watershed.