Audubon California's Meghan Hertel will Discuss "Climate Change and Birds at Risk"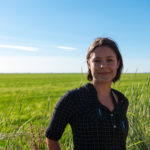 The Redbud Audubon Society is starting off the new year with a presentation by Meghan Hertel, Director of Land and Water Conservation for Audubon California. The Thursday, Jan. 16 meeting will be held in Lower Lake at the Methodist Church Social Hall, 16255 Second St. starting at 7 p.m.
Roughly two-thirds of America's birds are threatened with extinction in the face of climate change. This is the key finding in the October 2019 report from the National Audubon Society. The  ground-breaking climate report, Survival by Degrees: 389 Bird Species on the Brink, included stark findings that showed the likely fate of hundreds of bird species under various climate warming projections.
The study also provided hope demonstrating that keeping temperatures down will reduce that risk for many species.
Hertel will discuss this study, provide a call to action, and report what Audubon is doing in California and nationally on climate change.
Meghan Hertel has been with Audubon California since 2010. She co-leads Audubon California's conservation programs with a focus on inland water and working lands strategies. These include scaling bird-friendly management practices and habitat restoration on farms and ranches, Audubon's engagement at the Salton Sea, and overseeing Audubon California's sanctuaries.
Prior to her current position, Meghan served as Interim State Co-Director in 2017, as well as in various other Audubon positions including Associate Director of Public Policy and San Joaquin River Project Manager.
Before Audubon, Meghan worked as Conservation Program Administrator with the Resources Legacy Fund (RLF) where she managed the organization's engagement in the South Bay Salt Ponds restoration in the San Francisco Bay area and worked on several philanthropic programs focused on the Central Valley.
She holds a Master's degree in Environmental Science and Policy from Clark University. She is a 2018 American Leadership Forum Fellow, a 2009 Water Education Foundation, William R. Gianelli Water Leader, and a 2006 Albert Schweitzer Fellow. Meghan was recently recognized as one of Sacramento's 40 under 40 for 2019.